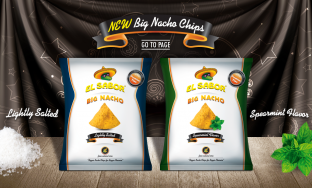 Big Nacho: New package, new flavor!
February 3, 2015
The famous El Sabor Big Nacho is completely renewed… New package and new flavor!
Enjoy them in two amazing flavors. Classic, Lightly Salted and the new fantastic Spearmint.
El Sabor Big Nacho is larger sized in order to give you greater enjoyment!
You will prefer it for its fine quality. A special snack for your special moments!
Try the new Big Nacho and enjoy the pleasure of El Sabor flavors.