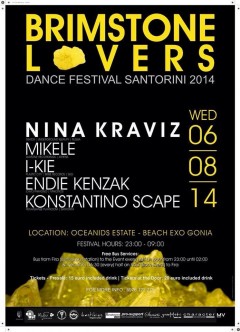 El Sabor in Brimstone Festival
August 4, 2014
A glamorous musical celebration, Brimstone Festival, will take place in Santorini on Wednesday, August 6th, in Oceanids Estate (Beach Exo Gonia).
The internationally renowned DJ from Russia, Nina Kraviz will be in the party, while with her will be: MIKELE, I-KIE, ENDIE KENZAK, KOSTANTINO SCAPE.
El Sabor supports the event, giving its own unique flavors, at the big summer party, which takes place in one of the most beautiful islands of the Cyclades.
Click here: https://www.facebook.com/events/514542475313886/?source=1