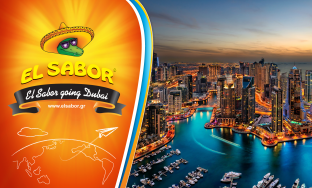 El Sabor in the International Exhibition Gulfood
January 30, 2015
El Sabor participates in the international food&hospitality Exhibition Gulfood, organized by Dubai International Exhibition Centre in Dubai, from 8 to 12 February 2015.
Gulfood is the largest exhibition for food and beverage industry in the Middle East, Africa and India and one of the most important exhibitions internationally.
This year Gulfood celebrates its 20th anniversary and El Sabor will be there showing the products that everyone loves.
This is an annual event that brings together people around the world, mostly catering and equipment professionals.
At El Sabor Stand in Gulfood, the company will show its Nachos, Dips, Wraps and other products in the context of an international exhibition, which hosts almost 5,000 exhibitors.
This year in Gulfood thereis the biggest European showcase ever, the largest South American participation, as well as new country pavilions.