Chicken & Chorizo Wraps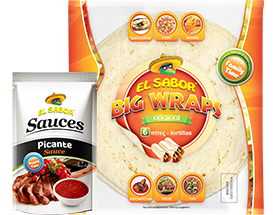 YOU'LL NEED
2 large, skinless chicken breasts, ½ tsp smoked hot paprika, 1 garlic clove, crushed, Grated zest and juice of 1 lemon, 1 tbsp olive oil, El Sabor® Original Wraps, 142ml pot soured cream, to serve, Mixed dressed salad, to serve
For the sauce
280g jar roasted red peppers in oil, 1 small onion, thinly sliced, 75g piece chorizo, skinned and diced
LETS' COOK
Cut the chicken into large chunks and put in a non-metallic bowl with the paprika, garlic, lemon zest and juice and oil. Season, toss together and marinate for at least 30 minutes or up to 3 hours.
Meanwhile, make the sauce. Drain and roughly chop the peppers, reserving 2 tablespoons oil. Heat the reserved oil in a large frying pan over a medium heat. Add the onion and cook, stirring, for 5 minutes, until softened. Add the peppers, chorizo and a splash of water. Cover and simmer over a gentle heat for 5 minutes, until the sauce is thickened. Season to taste. Cover and keep warm.
Preheat the grill to medium-high. Thread the marinated chicken onto metal or wooden skewers (if using wooden skewers, soak them first in water to prevent scorching). Grill for about 5 minutes each side, until the chicken is cooked through.
Remove the chicken from the skewers and serve on the wraps with the sauce, soured cream and a mixed dressed salad.
Source: deliciousmagazine.co.uk